As an independent busines owner, how can you be more profitable without adding to your workload?
Convenient
Keep your customers satisfied by letting them pay the way they want to (hint: it's usually not cash). Kashing allows you to get paid quickly and easily, whether you run your business online, offline, or both. The entire platform is simple to set up and use. On top of that, you'll finally be able to manage your payments.
Affordable
Expect no hidden fees - You can choose from different subscription options, each with unique rates and benefits to suit your business. Use your account to see your stats, daily reports, and to make more informed business choices. No more wasting time managing cash, collecting cash, counting cash at the end of a day. Every transaction is logged automatically - which makes bookkeeping easy like Sunday morning. Simply export the reports for the period you need.
Clarity
Make well-informed business decisions on budget or inventory delivered through a single dashboard. Thanks to easy-to-read sales reports and analytics you can now track things like seasonality trends or your staff's performance.
Cashless

Payments

The number of people in the UK who are living an almost cashless life has more than doubled in two years, to 7.4 million, official data shows.

For businesses in the unattended market, keeping up to date with ever-progressing technology poses a challenge.

Cashless payments and new payment methods have been growing in popularity, and it can feel like a struggle to keep up. Not to mention the fact that the time and expense of upgrading self-service payment terminals can be intimidating. Failure to move with the times could cost merchants business.
UNATTENDED
Kashing's cashless payment solution is for your unattended business. Our telemetry and management platform will enhance all aspects of your business, increase your revenue and decrease operational cost for all your automated machines.
Device performance
Stock control
Cash management and integration
E-COMMERCE
Kashing allows you to get paid quickly and easily, whether you run your business online, offline, or both. The entire platform is simple to set up and use. On top of that, you'll finally be able to manage your payments.
Pay by link
Integration API
FACE TO FACE
Your Kashing Reader allows you to take card and contactless payments - whether you run B&B, a food stall, or you're a freelance makeup artist. Just pair it with your tablet or smartphone and get paid quickly and seamlessly.
Chip & Pin readers
Thermal printers
Cash drawer
DASHBOARD
Our Dashboard is a tool that provides a centralised, interactive means of monitoring, measuring, analysing, and extracting relevant business insights from different datasets in key areas while displaying information in an interactive, intuitive, and in a visual way.
It is a tool that allows us to see at-a-glance the insights and performance of your business through a set of carefully identified and relevant key performance metrics (KPI) according to your business performance.
An information tool that supports your business in key decision-making activities. Charts are more easily understood than complex data structures and provide vending operators to manage their unattended cashless vending machines online. Spot the moment any issues or discrepancies in business process or transactions occur.
Quick overview
Balance
Last 10 transactions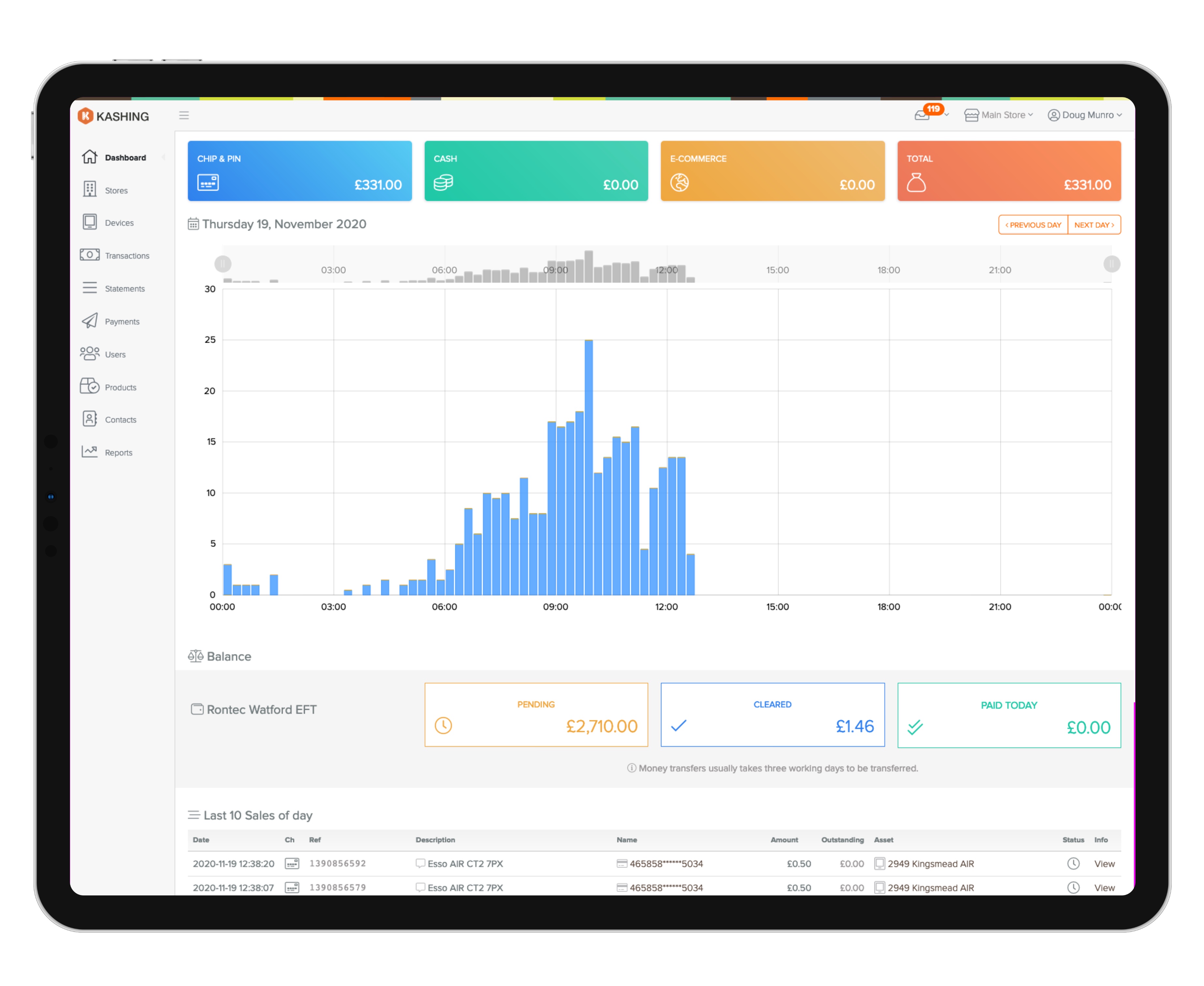 REPORTS
See the data you want to see. Reports are all about presenting your information clearly and beautifully. It could be an annual company sales report or a stock report. Compare various matrices to better understand your business and you don't need a degree in computing to create production values and in-depth data analysis.
Performance reporting
Daily / weekly / Monthly reporting by business
Unit, store or device.
Transaction volume
Total sales per period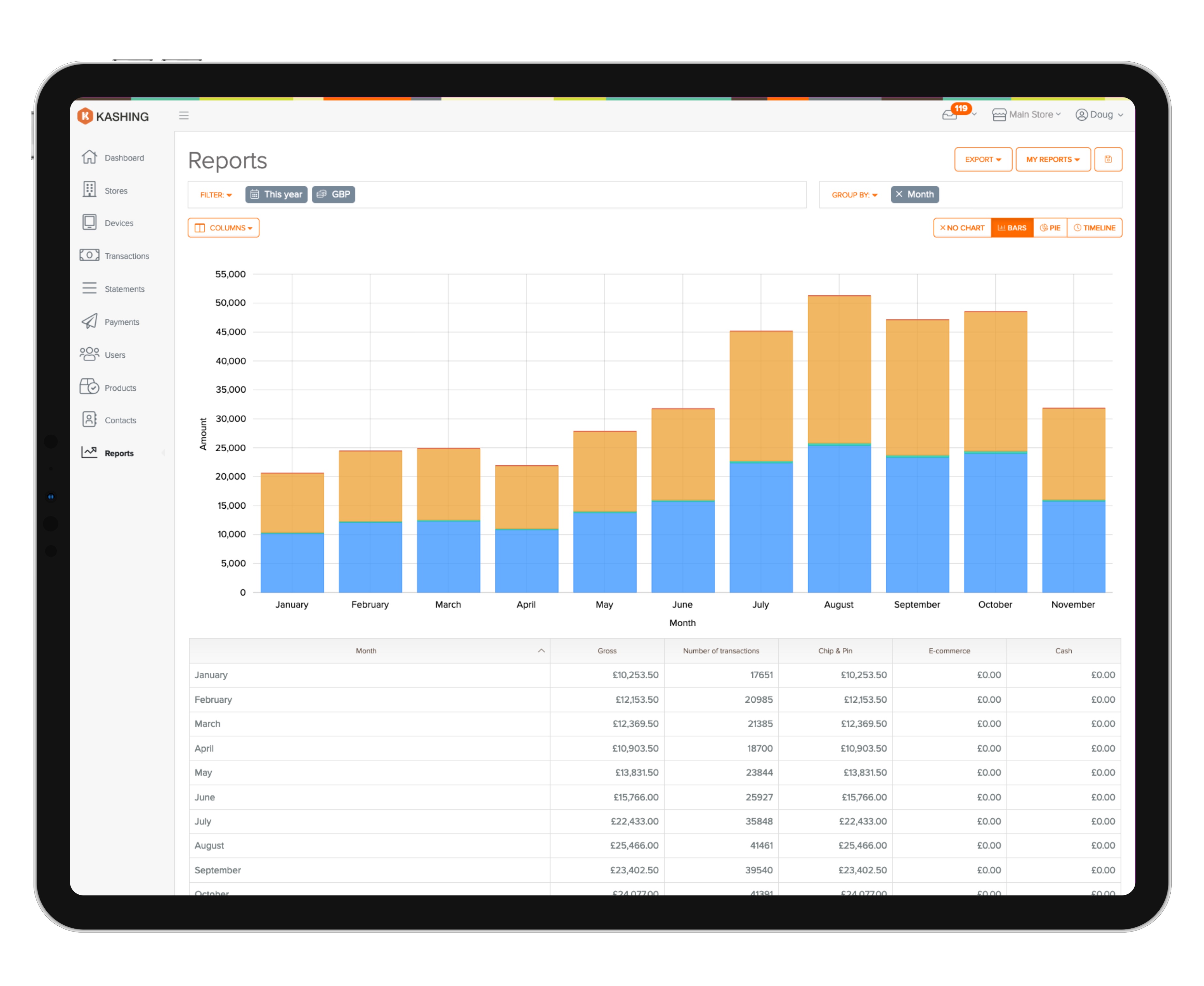 DEVICE MANAGEMENT
We provide vending management telemetry solutions allowing vending operators to manage their vending machines online.
A simple traffic style system enables you to see at a glance the status of your systems and those needing attention. Group your systems together and manage your assets effectively. Look at performance and analyse your performance indicators by device.
Online and offline status
Notifications
Device performance
Stock control
Cash management and integration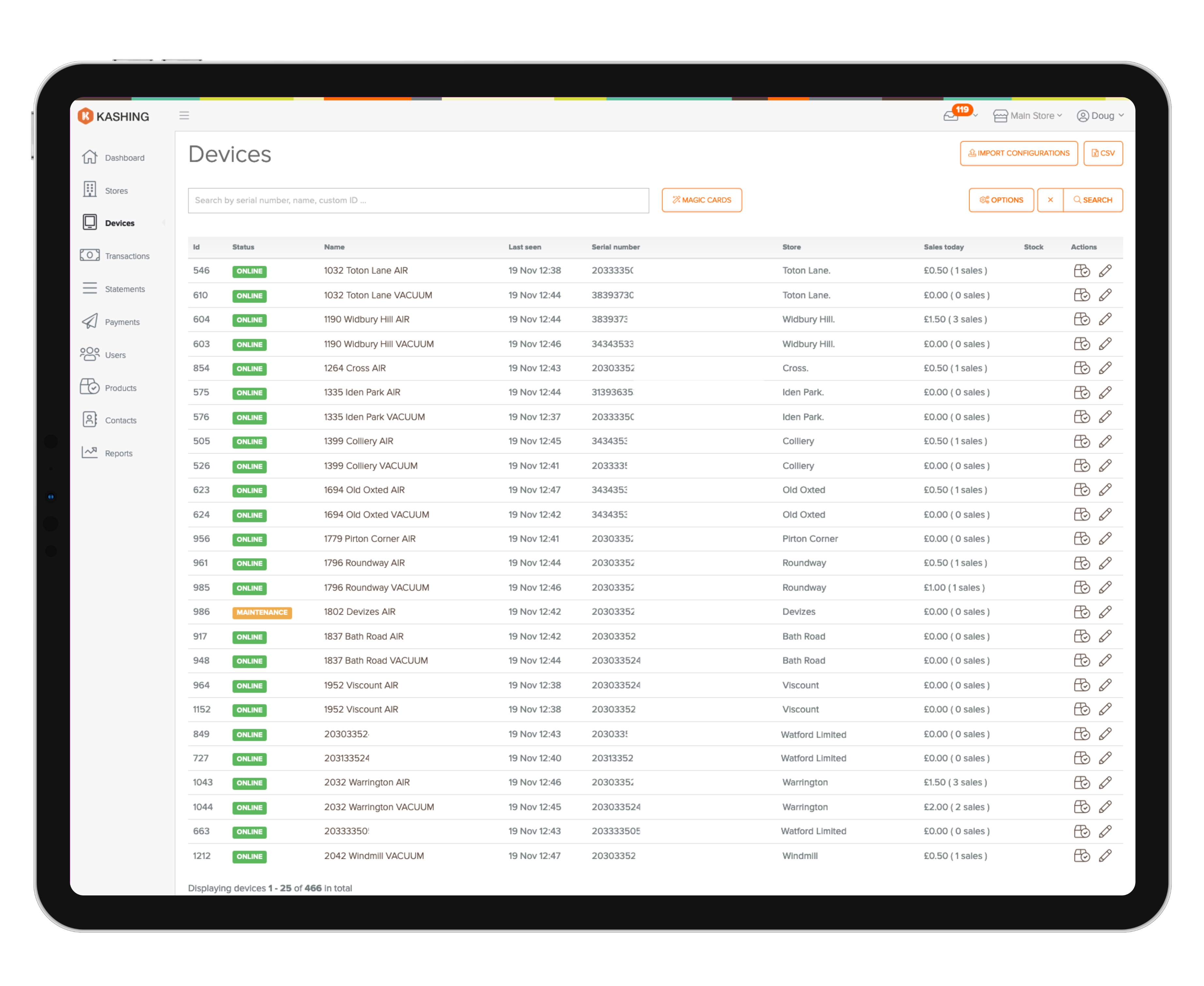 PRODUCTS & STOCK
Plan and manage your business better with effective product and stock management. Less waste will save you money by having better insight regarding the state of your devices. Boost your sales by changing your pricing according to seasonal changes.
Product and price management
Stock control
Cash management and integration
SITE & USER MANAGEMENT
Categorise your business into sites or known locations. Save time by allowing user access with specific rights to support roles. Apply your profits and losses based on areas and regions and gain insight into your business performance on each location.
User management
Role based access
Multi location and devices per location
Store reporting and performance
PREPAID & LOYALTY
Offer discounts, rewards, happy hour and loyalty campaigns using our prepaid solutions. Brand and design it according to your business profile. Ideal for closed environments such as offices and arcades or any setting where you want to boost repeat custom.
Top-up or single use options
Loyalty and rewards
Marketing opportunity
Membership discount
ALERT SYSTEM
Our solution integrates an intelligent remote monitoring solution that improves operational management with customisable alerts to allow you to better understand your business in real time.
Remote machine monitoring
Real-time awareness
Notable event management